Experienced translator and interpreter
Recognized by the Israel Translator Association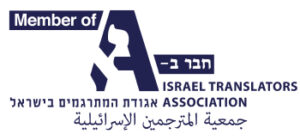 Every text, however simple, exists in a specific cultural context. Translation is not simply substituting words from one language into another language…
There are several types of oral translation: Simultaneous translation and onsecutive translation.
Simultaneous translation – As the speaker is talking,..
What exactly is editing? According to the Rav-Milim Dictionary, editing includes proofreading, correcting language mistakes, and improving style. Different texts demand…
Localization – translation of digital content such as websites, apps, etc. – and adaptation to the local market. Clients in France, Japan, the US or Israel respond to different approaches…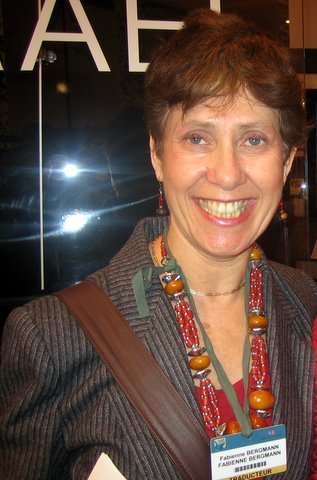 In addition of being a translator, I am a writer. For this reason, the process of writing fascinates me.
I am an experienced, reliable and accurate translator, and my translations are all the better for that.
I work fast and always deliver on time.
I really like and care for the languages in which I work. I do not just translate. I write my own pieces (a novel, short stories, a play, poetry, glossaries, a children's book) in both Hebrew and French.
I come from a family where studying, Judaism and French culture were living values, and I have always benefited from this double culture, which I have never ceased to develop.
I have studied translation and simultaneous interpreting at Bar Ilan University (from Hebrew to French and from French to Hebrew).
I have taught Hebrew and French for over ten years.
Also at the Hebrew University I took a special course and obtained a teaching diploma for Hebrew at university, and I have taught there in the Overseas Students Department.
I have studied at the Hebrew University in Jerusalem and I have a MA in Jewish History, a BA in History and History of Art, and I have a teaching diploma for these subjects in secondary schools.
I grew up in France, where I graduated from high school. I have been living in Israel for almost forty years.
Beyond my love for words, I have a special passion for the theater. I have taken courses in dramatic art and am an actress in my all too infrequent free time.
Books I translated from English
"The Bear Witness", Holocaust Remembrance at Yad Vashem 
Efraim Inbar & Fabrice Chiche, The Euro – Israeli dialog: a step forward? 
Are the Trees in Bloom Over There? Frederick Raymes & Menachem Mayer
Synopsis of documentary films
Festival, Utopia and Violence in Modern French Thought, Avner Benamos
Israel: The Construction of a National Identity, Avner Benamos
I would like to strongly recommend Fabienne Bergmann as a translator from Hebrew and English into French. I am a historian of education and culture, and my texts are quite complex, as I weave together concepts and ideas of the social sciences and the humanities. Although I am not a native speaker of French, my French is good enough to discern the excellent way these texts were translated into French – making them clear, without losing their meaning. I am especially thankful for the translation of my book Israël: La fabrique de l'identité nationale (CNRS Editions, 2010), which received many compliments from my French colleagues.
Prof. Avner Ben-Amos, School of Education, Tel-Aviv University
Dear Fabienne,
Thank you so much for the fast service, the immediate response when urgent needs arose and, of course, for the excellent, professional translation, beyond regular working hours. Thank you for your rare amiability/congeniality and outstanding quality of service.
2 September 2020
Amnon Kapeliouk, Haaretz, 21.9.2008
The translator, Fabienne Bergman, succeeded in preserving a vibrant style similar to the source language. She also added comments on many names, terms and subjects for the convenience of those readers who are unfamiliar with the secrets of the French media.vivement!
Amnon Kapliok, on The Strange Man Who Is Like Me, Books Supplement, Haaretz, 21.9.2008
John Peters-Dickie, ODICE S.A.S.
I had the opportunity to work with Fabienne Bergmann during a business trip to Israel. She accompanied me to all my meetings and served as an interpreter in a combination of 3 languages, to my greater satisfaction. During these product presentation meetings, we dealt with very technical and specialized subjects that Fabienne Bergmann has mastered perfectly. She also translated commercial documents for me in writing, and here too, I appreciated her punctuality and professionalism.
Do you also want to be a satisfied client?